The Amazing Nesas's Organic Hemp CBD Oil Review – The World's #1 CBD Product
Nesa's Organic Hemp CBD Oil Product Review
Nesa's Hemp offers a unique and powerful organic Hemp CBD oil that stands apart from other brands. The company's living hemp is possible because of a specialized delicate extraction process. This excellent method preserves more of the plant's potent compounds than any other industry technique.
Nesa's Story
Founder and CEO Inesa Ponomariovaite is a passionate innovator of organic hemp oil and all-natural products that utilize plant-based products to boost wellness. She has spent years studying and learning about the endocannabinoid system and how it interacts with CBD and other hemp compounds. Nesa's cold-pressed living hemp is a direct result of Ms. Ponomariovaite's vision and dedication to holistic living.
Safe & Effective Cold-pressed living hemp
Most manufacturing processes, even CO2 and ethanol extraction techniques, destroy many of the compounds found in hemp. The potent plant contains at least 545 known compounds, including more than 140 cannabinoids with similar properties to CBD. The remaining phytochemicals are a blend of terpenes, flavonoids, and phytonutrients, such as healthy fats and vitamins. Most of the health benefits of the organic hemp CBD oil come from this powerful formula.
The best products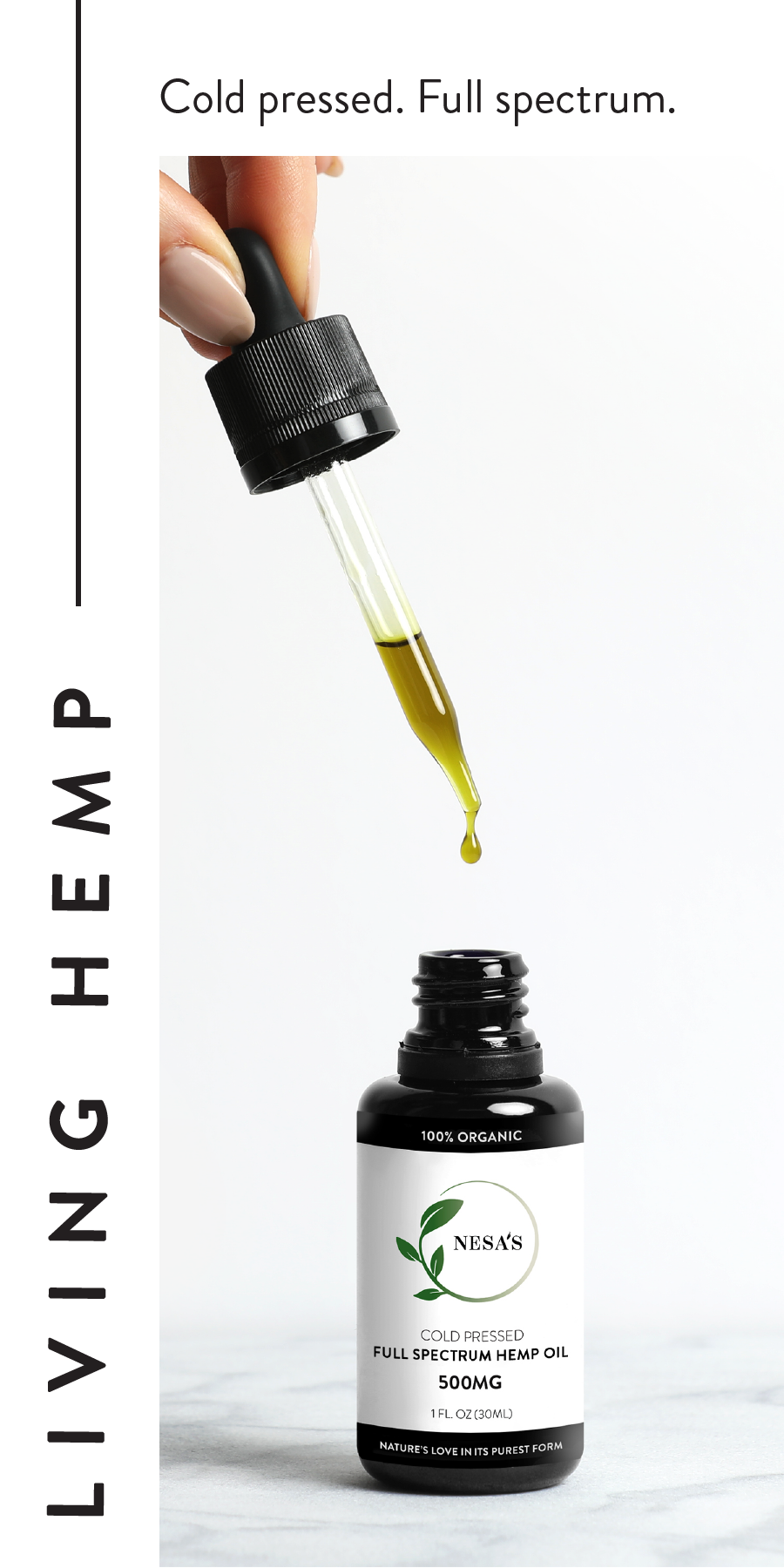 preserve as many of the naturally occurring compounds as possible. Nesa's non-oxidized process doesn't use chemicals, solvents, heat, or heavy metals to remove unnecessary plant matter.
Many CBD brands try to save money and use a solvent-based extraction process that destroys too many of the plant's delicate compounds. Also, these processes can leave behind harmful trace chemicals. Our natural, cold-pressed method is 100% chemical-free from cultivation to extraction and processing.
Customers get cold-pressed living hemp that's grown in nutrient-rich soil without the use of pesticides, herbicides, or synthetic fertilizers and processed without harmful chemicals. Nesa's cold-pressed living organic hemp CBD oil is guaranteed to have more natural compounds than other CBD brands. Learn More about the benefits and uses of CBD oils here.
Full-Spectrum Organic CBD oil
Nesa's Organic Hemp CBD Oil is a whole-plant formula that's ideal for all users. It only uses hemp grown from non-GMO seeds and is vegan-friendly, Earth Kosher, and Oregon Tilth-Certified. A full-spectrum hemp product contains all 545 compounds found in the popular plant, including a small amount of THC.
"We don't offer broad-spectrum, or a CBD isolate that takes the plant through additional harsh processing techniques to remove specific compounds."
Nesa's Hemp  Oil is an all-organic, high-quality formula that includes the federally legal amount of THC, which is 0.3%. The brand's proprietary formulation is FDA compliant and meets all California Proposition 65 regulations.
Third-Party Tested Organic hemp CBD oil
CBD oil products aren't tested individually by a U.S. agency. Consumers rely on brands to test and verify the safety of their products. Nesa's Hemp Oil offers full transparency.
You can check out all their independent lab's testing results on their website. Each report shows the terpene levels and potency, as well as any heavy metals, pesticides, and solvents. Also, every product label includes a QR code that links directly to the screening results.
Cold-pressed living Organic hemp CBD Oil in Protective 30ML Bottles
Hemp's compounds can lose their potency from exposure to nature's elements. Nesa's understands the frustration and struggle to find a cool, dark place to store your oil, especially in warm and sunny locations throughout California.
It would help if you still reduced the cold-pressed living hemp's contact with high temperatures and direct sunlight. But the Miron Violette glass ultra-violet filtering bottles offer more production for your organic CBD oil than other brands.
Health benefits of hemp CBD oil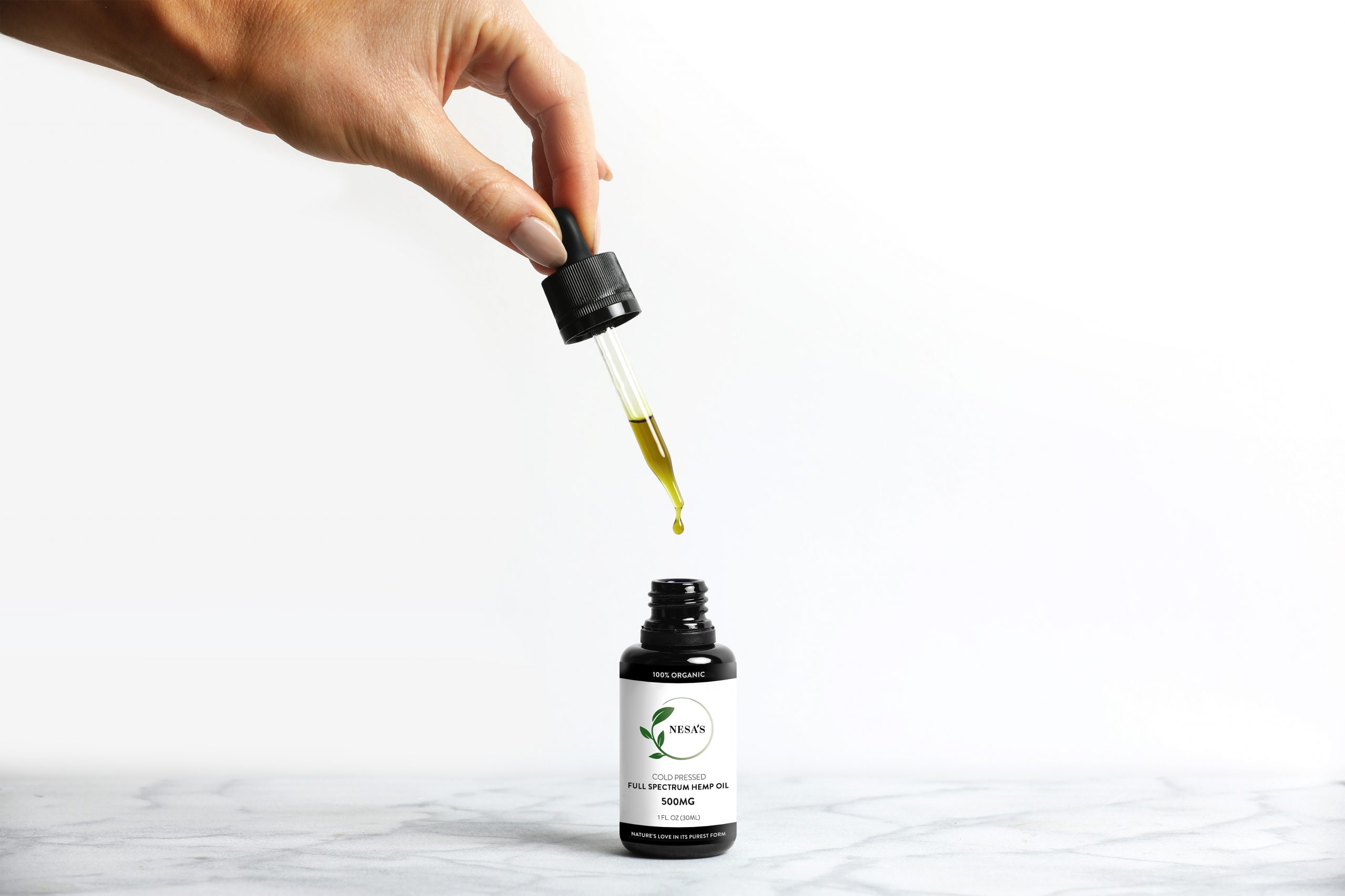 Hemp's popularity comes from the natural characteristics that are ideal for any healthy living regimen. CBD's most known for helping individuals reduce stress levels. Recently, fitness enthusiasts have been using the plant-based products to keep them focused during intense workouts or relieving game-time anxiety.
By slowing down the mind, athletes at all levels are keeping their heads in the game and meeting all their performance goals. Additionally, people at all fitness levels use organic hemp oil to relieve sore joints and muscles after intense weightlifting and cardio sessions.
Additionally, CBD has the potential to support cellular health and promote bone and joint health. These benefits are ideal for fast muscle recovery following fitness routines, weightlifting sessions, and sports competitions. With less stress, lower levels of anxiety, and relaxed muscles, consumers using Nesa's Organic Hemp CBD Oil sleep better than they have in years.
For the best results, combine all-organic hemp products with a nutritious diet and plenty of self-care. When you're eating well, not anxious, and meeting all your fitness goals, your mind and body are in the perfect place for maintaining a regular sleep pattern. Combined, CBD and healthy living can help you look and feel great.
Final Verdict
Choose Nesa's Organic Hemp CBD Oil tinctures to enjoy the health benefits of CBD oil. The industry's first living product provides the highest naturally occurring cannabinoids and other compounds on the market. Add Nesa's organic CBD oil to your wellness routine today.