Sauna Space Zero EMF Near-Infrared Sauna Review
Feel healthier and happier with our handmade and hand-tailored Zero EMF Near-Infrared (NIR) Saunas that are made in the U.S.A. The sleek, safe, comfortable, and beneficial sauna is the perfect, all-natural tool for fighting chronic disease and improving your quality of life. This Zero EMF Sauna has an ideal minimalist design that fits into most apartments, condos, and houses.
==>Learn More About the Amazing Benefits of Near-Infrared Sauna Therapy!
Why Choose Sauna Space Zero EMF Sauna?
There are many reasons to buy a Zero EMF NIR Sauna from Sauna Space. A few minutes raises your cell temperature by 3℉ and starts the cellular detoxification response.
What does this mean? The increase in the heat for a few minutes helps your body detox and heal itself. We encounter toxins in every environment. Chemical herbicides, pesticides, heavy metals, and molds are responsible for many chronic illnesses that severely impact wellness.
Common conditions these toxins can cause include:
Anxiety
Sleep problems
Hormone issues
Weight loss resistance
Fatigue
Headaches
Difficulty concentrating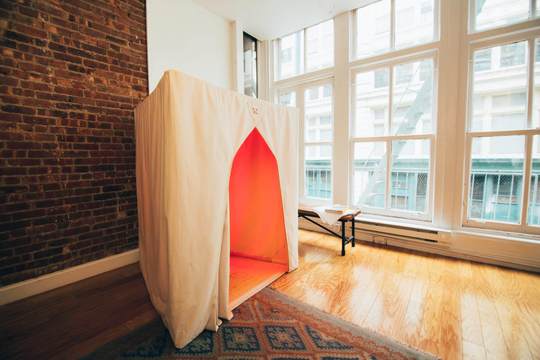 Light is nature's most potent nutrient. However, too much time in the sun can have severe consequences. Plus, not everyone lives in Southern California, where the sun shines 284 out of 365 days out of the year.
Enter our Zero EMF Near-Infrared (NIR) Sauna. A safe way to get more sun without the dangerous ultraviolet rays. It uses 600 to 950 nm light to activate cellular regeneration and anti-aging systems within the body.
No prescription medications are required, and using it only takes a few minutes from your day. Most consumers benefit from completing a 20- to a 30-minute daily session and can move up to 60 minutes daily for more exposure.
Sauna Space: A Company Overview
Sauna Space is the creation of Brian Richards in 2008. His vision for the Zero EMF Near-Infrared (NIR) Sauna began with a personal need for natural healing.
Brian explains, "As our biochemical and bioluminescent state is degraded by toxins and stress, worsening health becomes disease. The key to our natural regeneration lay within our cells, and Natural Thermal Light kindles it."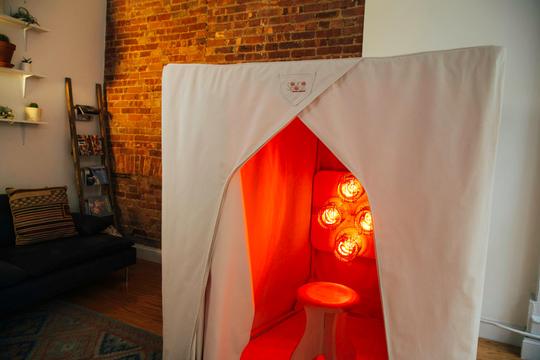 Sauna Space began the venture completing every detail himself, from the first NIR sauna to its logo design. Today, together with trusted friends, Sauna Space operates a 3,500-square foot workshop in two different locations.
We take a hands-on approach to all our designs. All products incorporate lean manufacturing practices to provide high-quality items at a fair price. We don't outsource any parts.
Sauna Space uses an in-house textile production area with well-trained sewing machine operators. The internal product and direct to customer sales reduce overhead and keep costs competitive.
Everything You Need to Know About Sauna Space Zero EMF Near-Infrared Sauna
The main component of a NIR sauna is the light panel, which a multi-use part. You can use this with the dual-layer covers to keep temperatures above 100℉ for a full-body sweat and detox or use it as a stand-alone tool. The light guards ensure safety in any room, including the shower or a standard sauna. It has panel clamps that allow you to make height adjustments for any indoor situation that fits your needs.
The curtained entrance offers wheelchair access, allowing anyone to use the powerful, all-natural tool. It comes with a solid wood stool that's portable and durable. The simple seat is ideal for experiencing full-detoxification and longevity with sauna rotation protocols, which require you to turn ¼ every 5 minutes.
Use the cabana enclosure to keep the ambient air above 100℉ to use the near-infrared sauna and chronic disease treatment to boost your wellbeing. The dual-layer canvas blends into any room décor and is thick enough to maintain the ambient temperature.
Sauna Space Zero EMF Near-Infrared Sauna is 100% Safe to Use
We care deeply about your safety. Our handcrafted saunas are easy to set-up and adjust. The seats are safe and comfortable. Also, the dual-layer material for the cover is hypoallergenic with all-natural sourcing. It won't leach chemicals when heated, making it the perfect material for long-term satisfaction.
Health Benefits of Using Sauna Space Products
Many consumers, including our founder, combine near-infrared sauna and chronic disease management to improve their overall health. By stimulating the cells with a 600 to 950nm light source has the potential to:
Improve skin appearance by signs of aging (think wrinkles)
Increase Blood circulation
Increase Cellular metabolism
Increase Collagen production
Increase Tissue oxygenation
Increase Cellular and tissular growth
Reduce Fat and cellulite
Reduce joint and muscle pain
Reduce inflammation in the body
Improve collagen and elastin production
Improve retinopathy (eye damage)
It has been shown to improve inflammatory mediators' production that reduces cellular inflammation and activates your anti-aging system.
Sauna Space Zero EMF Near-Infrared Sauna: Pros and Cons
Like all products, there are pros and cons of using any sauna system. Some consumers prefer a far-infrared, which wraps around the body and penetrates deeper but also increases exposure to EMF radiation in the long-term.  In order to provide ZERO EMF, the Sauna Space uses natural materials and is near-infrared. The near-infrared Sauna from Sauna Space provides chromotherapy (visible light therapy: red, orange, yellow) and phototherapy (helps in treating seasonal affective disorder (SAD)) benefits, allows for deeper penetration for optimal benefits, and removes the danger of EMF radiation.  The Sauna Space Zero EMF Near-Infrared Sauna is also less expensive to own and operate.
The Verdict:
Add The Zero EMF Near-Infrared (NIR) Sauna to your wellness routine. Incorporate the cell-detoxifying tool with your daily supplements, nutritious diet, and regular cardio and strength-training to naturally reduce toxins and improve your health, wellness, and happiness. Overall, experience detoxification and longevity with the Zero EMF sauna from Sauna Space.