The Super Healing and Delightful Infinity C products Review
Infinity C Products Review
Overview:
Introducing the Super Healing and Delightful Infinity C Products: In the 21st century, there has been sort of a health revolution as more and more people are moving towards a healthy lifestyle and healthy eating. Whether it be through natural food items such as vegetables or through health supplements people are constantly looking for the next best thing to give them a health boost. In the age of a global pandemic, one such line of products is  Infinity C products from Infinity Greens. Marketed as an immunity-boosting product line, this review will analyze all aspects of this brand and Infinity C products.
Company Overview
 The aspirations of this company come directly from its founder, Billy Merritt. Having suffered major health issues such as head trauma and brain lesions, after recovering, Billy was determined to help the people around him. The idea he conjured up was to provide people with nature's medicinal superfoods to give their health a boost. After many years, that idea has grown to become the renowned brand that is Infinity Greens.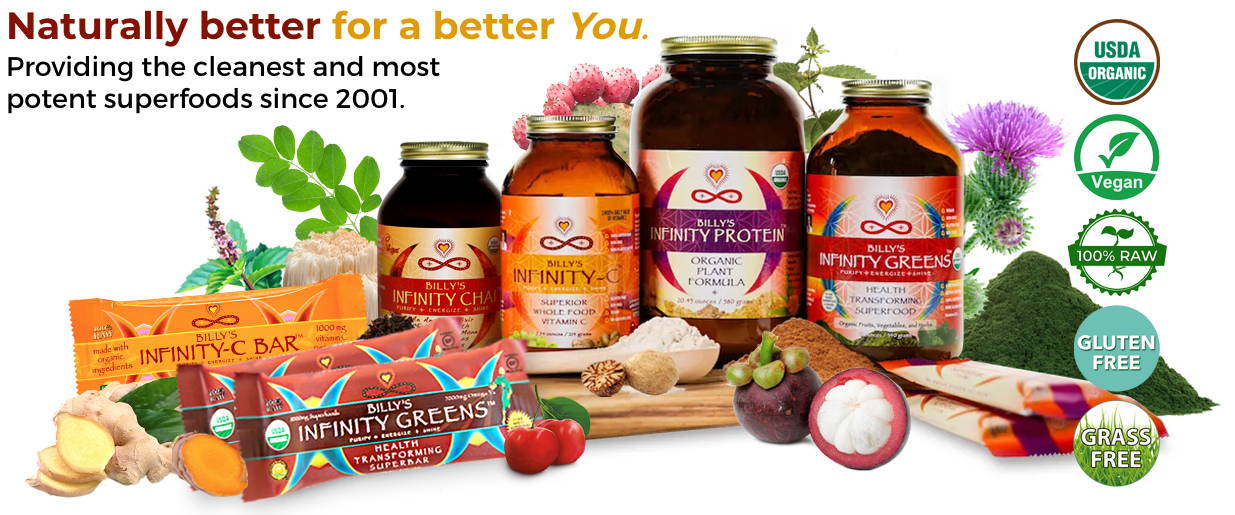 Aimed at healing the people who use these products, the motto of this brand is to never compromise on the quality of the products. Simultaneously, the fact that this wasn't a company started with the aim of making money is visible from Billy's diligence to continue to improve his services and his products. For 17 years, Billy has been trying to improve his blue-green algae-based Infinity Superfood formula to make its effects even better which is a testimony to the goodwill of Infinity Greens.
>>Read More About Our Infinity Greens Products Review Here<<
Infinity C Products Overview
 Like all the other product lines at Infinity Greens, this one is also made with a specific aim in mind. The Infinity C  products are a precision blend of Vitamin C, fruit extracts, and immunity-boosting medicinal herbs.
As far as its composition is concerned, Infinity Green claims the Infinity C products to be gluten-free and 100% vegan. Simultaneously, this line of products is also free of ascorbic acid which is a component of fruit-based health supplements. The efficacy of this line of products is guaranteed by the claim of providing 1411% Vitamin C per serving which is equivalent to 14 oranges.
Speaking of servings, the Infinity C products formula is available in 3 base forms; capsules, powder, and bars. While every 7.5 oz. bottle of Infinity-C powder contains 30 servings, every box of bars contains 12 bars and every bottle of capsules contains 11 capsules and 30 servings.
As far as the prices of these products are concerned, they are fairly reasonable. You can get all three types of products for the same price of $39.95. There are however regular promotional offers that you can avail of as currently the powder and capsules are available for $34.95. Simultaneously, if you want to get a hold of different types of products all at once, you can take advantage of their bundle offers.
The bundles specific to Infinity C products include Bars and Capsules bundle and Bars and Powder bundle both for a price of $68.80. On the other hand, you can get your hands on other product lines by buying trying out the Infinity Greens and Infinity-C capsules bundle, 36 Infinity Greens, C and Protein bars bundle, or the Infinity Greens and Infinity-C Powder bundle.
How are the infinity C products sourced and tested?
 One major concern consumers have when buying health supplements is with regards to the safety of consuming these products. Given the history of the founder, Infinity Greens is staunchly against health supplements with artificially produced ingredients. This is why all of the ingredients, including the probiotics and enzymes used in their products, are organically sourced.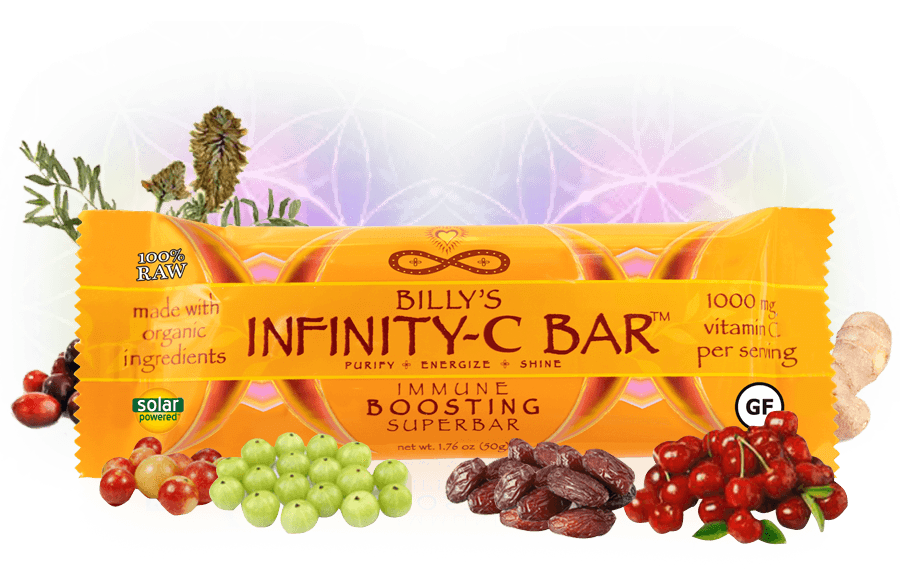 Apart from the source of their ingredients, one of the most important considerations when buying health supplements is regarding lab-tests. To fully trust a brand, consumers need to be assured that their products are tested by a third-party lab to ensure the purity and safety of their products. Infinity Greens takes the safety of their products very seriously as they get all of their products tested by an unbiased third party for contaminants and impurities. Moreover, they go a step further and not only give you access to the test results but also mention the ingredients of all of their products below the product page.
Health Benefits of the Infinity C Products:
One of the best things about organic health supplements is that you can accrue a variety of health benefits from them. The various health benefits if Infinity-C are as follows;
Naturally, the product fulfills its purpose as it will give you a noticeable boost in immunity. The organic ingredients used in it which include various fruits and dry fruits are perfect to give you a stronger immune system.
Better Metabolism for Muscle Gain
If you are planning on working out and getting in shape then this health supplement can benefit you a lot. Since it contains organic dates, it is rich in potassium which will help in metabolizing the protein in your body leading to muscle creation.
Improves Oxygen Circulation in Your body
The organic ginger root that this product contains, is the perfect ingredient to enhance the circulation of oxygen and nutrients in your body.
Pros and Cons
Some of the reasons why this product will be perfect for you are as follows:
Pros
 The infinity c Products are Grass-Free
Infinity Greens' infinity c products are all free of wheatgrass which is known to reduce the potency of superfoods.
Since they consider themselves to be an ally of the environment, none of Infinity Greens' products are packaged in plastic. Rather they use sustainable glass bottles to package their products.
Infinity Greens doesn't believe in hiding anything from their customers which is why from their test results to the ingredients in their products, everything is visible to the consumers.
Being a brand that functions in several different states, they offer a variety of different payment options to make sure their products are accessible to all.
Cons
 All in all, perhaps the only downside of this product line would be the fact that they don't offer any smaller servings. This may be a problem for consumers who want to try the product out but are skeptical about its quality and hence don't want to overspend.
Final Verdict
Conclusively, it is safe to say that Infinity Greens is one of the most original health supplement brands out there, and Infinity C products are an exceptional immune boosting remedy for optimal healing. Not only do they use completely natural ingredients in their products, but they are transparent – they have also laid themselves bare in front of the public which is a testimony to their loyalty to the people. At the same time, this product line is one of their best, as it is focused on boosting immunity and the ingredients used in it, are definitely ones that will bring about that boost.
Add the Infinity C products to your health and healing regimen today. Visit their website and use Coupon Code: HolisticHealth10 for 10% Off (my gift to you).
To Your Heath!