The Spectacular Activation Products EASE Magnesium Spray Review
Activation Products EASE Magnesium Spray Review
Overview:
In the 21st century and the hectic lives the people of today lead, stress is the biggest hurdle for them to overcome. Magnesium deficiency is a major contributing factor. It is said that over 90% of all Americans are magnesium deficient. Working all day to pursue their ambitions, lack of proper nutrition, and the consumption of food that lack potent nutrients and minerals, has led to many having sleep problems, body pains, and stress-related health issues. The EASE Magnesium Spray is part of the Relaxation category of products at Activation Products which is the first category in a set of three categories including nourishment and thriving.
Activation Products Company Overview
Activation Products is one of the only health supplement brands out there with strong roots and a genuine ambition towards providing organic health supplements to their customers. At Activation Products, there is a strong drive to not settling for sub-par health and subpar health products. They believe in top-quality products and work towards providing them to the public.
Founded by Ian Clark and his son Anthony Clark, the journey towards establishing Activation Products started when Ian was 46 years old. At just 46 years of age, Ian met with a line of different, serious health issues. After the traditional means failed, Ian decided to combat these issues with potent remedies and natural organic solutions hidden around the world. After years of research, Ian figured out just what it takes to support the body's natural healing abilities. Even though his son, Anthony was only 19 at the time, his age didn't stop him from supporting his father and walking in his footsteps to find the best formulas, recipes, and suppliers globally to support their venture.
===>Watch Ian Clark's Amazing Story Here! 
With a team of international experts, Activation Products is well-equipped to provide you with the most authentic health supplements. Combined with their team of excellent and friendly customer service representatives, you will get the answers to any questions you might have about their products and services.
EASE Magnesium Spray Product Overview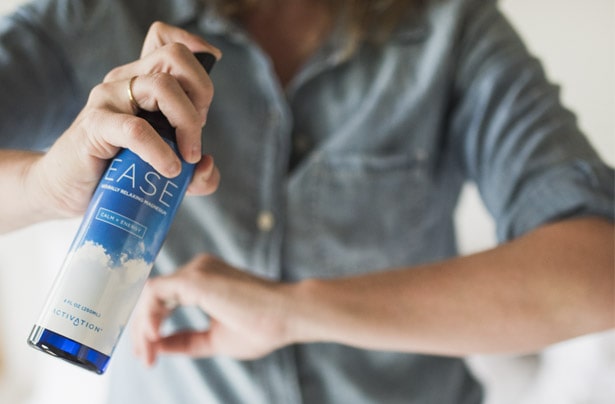 EASE is a completely organic solution that is used as a topical, applied to your skin. Every spray of EASE consists of 22mg of magnesium chloride hexahydrate. Simultaneously, unlike other transdermal magnesium products, EASE will not cause a stinging, itching, or burning sensation on your skin nor will it leave a residue.
Since it is a part of the relaxation category Ease Magnesium is used to encourage a sense of calm and relaxation leading to stress relief for the users. This is done by promoting calcium absorption and healthy magnesium levels in the bodies of the consumers. You can buy Ease Magnesium in sizes of 60ml and 250ml that are available in quantities of 1,3, and 6.
===>Refuel Your Body With EASE Magnesium Spray!
How is the product sourced and tested?
When it comes to health supplements made from natural ingredients, the source of those ingredients is a crucial determining factor for the quality of those products, and their safety. Activation Products' Ease Magnesium uses the same magnesium that you will find in the Dead Sea. Every day, people visit the Dead Sea to bask in the magnesium-filled water as a stress-relief after months of hard work. The magnesium used in EASE is 100% natural, purified, and healthy hence their bottles are filled with 100% authentic iMCH.
Simultaneously, it is essential to note that this magnesium is the most bioavailable in the world. Bioavailability refers to how quickly a substance reaches the blood circulation and starts producing its effects. The bioavailability of EASE comes from its all-natural origins and is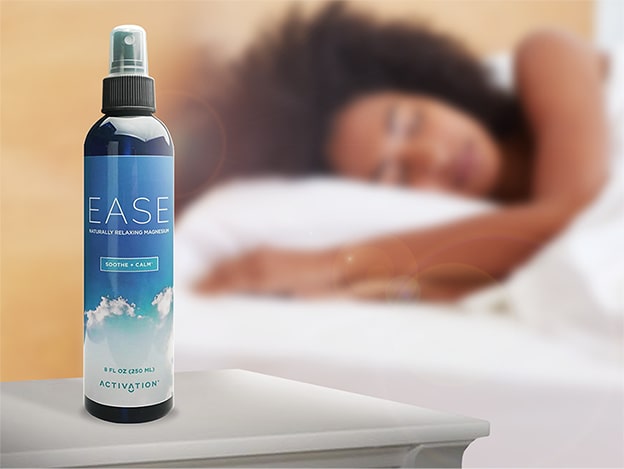 one of the biggest reasons why it is one of the most popular health products for stress relief in the market at this point.
Another vital consideration concerning health supplements is with regards to the potential of any impurities in them. You don't have to worry about any contaminants in Ease Magnesium as Activation Products claims EASE to be free of all toxins, pollutants, heavy metals, and toxins as it is considered to be 'pharmaceutical grade' magnesium. When it comes to the safety of use with EASE Magnesium spray, you have nothing to worry about. Although there is no link to their lab test reports, the reviews of the product suggest it is safe to use.
Health Benefits of EASE Magnesium
EASE is known to offer a variety of health benefits that can help users. A few of those benefits are listed below;
One of the most critical benefits that stem from EASE's use is with regards to it helping you sleep and relaxing you enough to prevent sleep deprivation.
EASE is also a spray that will help you strengthen your joints and make them sturdier to withstand more physical activity without an ache.
It will also soothe your muscles and help with any muscular pains or cramps that you have been having a hard time dealing with.
This product is known to give users a sense of calm and relaxation which will not only take off the stress from your shoulders but also uplift your mood.
===>Learn How You Can Get The Best Sleep Tonight!
Like any product or brand, there will be pros and a con or two for EASE and Activation Products. Some of these pros and cons are as follows;
Pros
Fast absorption and extremely high bioavailability.
Various promotions and opportunities for discounts.
Extremely affordable price for maximum accessibility.
Transdermal magnesium is way better than oral magnesium and can be applied on the entire body for maximum relaxation.
Easy spray-on bottle which you can carry anywhere to make sure you are always relaxed.
Cons
The benefits of EASE are immense and the transdermal application of the supplement makes it a great product to have on hand. I cannot find any cons for this product.
Final Verdict
Conclusively, there is a reason why EASE Magnesium spray is one of the hottest selling products at Activation Products, the sheer effectiveness of this product. From the source to its production, Activation Products has ensured excellence when it comes to this product. ===>You Can Buy EASE Magnesium Spray Here.
To Your Health!