What You Need To Know About Aging Skin – The 6 Best Essential Oils For Aging Skin
The Top 6 Essential Oils for Aging Skin
Overview
Aging skin happens to the best of us. As you get older, the outermost layer of your skin becomes thinner, and your collagen levels drop. This makes it harder for the skin to repair damage and maintain its natural firmness and elasticity. While it is completely natural for the skin to gradually lose suppleness with time, environmental factors like sun exposure and toxins can speed up the process. Poor nutrition, lack of physical activity, alcohol consumption, smoking, and some lifestyle factors can further accelerate collagen loss.
Poorly managed diabetes or high blood sugar levels can also cause damage to structural skin proteins that help keep it firm and plump. While there is no dearth of commercial anti-aging treatments, there are also a plethora of natural options that can do the same without any harsh side effects—and are also way more cost-effective. Essential oils have been used since antiquities to maintain skin health and vitality. Research suggests that when used correctly, these potent herbal extracts can naturally strengthen the skin barrier, promote moisture retention, and reduce environmental aging.
Read on to find out all about the top essential oils for aging skin and how to use them correctly.
Why should you choose essential oils for aging skin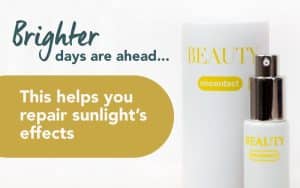 Aging skin needs special care and nourishment, which is rarely found in chemical-laden creams and serums—no matter how expensive they are or which "natural" ingredients they contain. If you happened to read the label, you would find that these featured ingredients make up less than 5% of the formula! The rest is water, fats, emulsifiers, and chemicals.
Have you ever wondered where all these chemicals from skin products end up? In your bloodstream! The Environmental Working Group has warned time and again that many of these chemicals may interfere with mood, sleep, hormones, and fertility. Even more alarming is the fact that babies are now coming out into this world with more than 200 cosmetic chemicals in their bloodstream.
While there are some genuine creams and serums that may indeed offer aging skin benefits, nothing matches the safety and simplicity of age-old plant extracts. Moreover, essential oils are readily absorbed in the skin, and their potent bioactive compounds are delivered directly to deeper skin layers. They also work holistically and provide all-around care that aging skin needs.
Best essential oils for mature and aging skin
1. Rose
Rose petal extracts and essential oil are extensively used in natural skincare—and for many good reasons. Often referred to as the 'liquid gold,' rose oil is loaded with a variety of aging skin-rejuvenating compounds that can help maintain plump and radiant skin.
It has moisturizing, calming, soothing, detoxifying, antifungal, antibacterial, astringent, restorative, and wound-healing properties—which altogether makes it an all-in-one essential oil for aging and mature skin.
When regularly used in combination with a non-comedogenic moisturizer, rose oil helps combat dry skin, balances excess skin sebum, minimizes large pores,
and soothes swelling and puffiness of facial skin. Being an antioxidant powerhouse, it can fight UV damage, refine skin texture, promote collagen, improve skin elasticity, and reduce the appearance of dark circles and premature wrinkles.
Research shows that topical treatment with rose oil can increase cell renewal and soothe conditions like candida, rosacea, eczema, acne, psoriasis, and skin allergies. Its uplifting aroma is also known to stimulate the release of dopamine and serotonin chemicals in the brain that promote feelings of happiness and reduce psycho-emotional stress.
2. Frankincense
Frankincense is widely used in ayurvedic skincare and is considered one of the most nourishing essential oils for aging skin. Research shows it is a powerful astringent and anti-inflammatory agent that can alleviate skin irritations and boost hydration. Rich in plant compounds, frankincense reduces oxidative stress in the skin, promotes cell turnover, and accelerates the natural healing process.
Regular application of frankincense oil can help prevent excessive dryness and roughness, reinforce the protective skin barrier, tighten pores, boost collagen synthesis, improve skin tone and elasticity, and reduce the appearance of age spots and stretch marks.
To reap the full anti-aging benefits of frankincense oil, try using it in combination with myrrh or palo santo oils. Like frankincense, myrrh essential oil comes from a medicinal resin with similar healing properties. When used together, both these oils work synergistically to amplify the effects of each other.
3. Geranium
Known for its high antioxidant content and skin-renewing properties, geranium is a highly prized anti-wrinkle ingredient that can truly redefine your skin texture. With regular use, geranium can promote structural proteins like collagen and elastin, soothe inflamed skin, reduce sagging and puffiness around the eyes, improve facial skin firmness, and protect against free radicals and environmental damage.
Geranium is best known for its ability to promote hormonal balance in women, which makes it especially useful for menopausal skin problems like frequent acne breakouts, pH imbalance, pigmentation spots, excessive dryness, itchiness, and brown spots. It also helps reduce chemical buildup from other skin products that clog pores and increase inflammation.
A 2021 study found that geranium oil can combat and slow down aging skin caused by external factors like sunlight exposure, pollution, ionizing radiation, chemicals, and environmental toxins. Geranium was also found to have photoprotective effects and inhibited harmful enzymes responsible for destroying skin proteins.
4. Basil
Historically used to promote youthful and disease-free skin and hair, basil is one of the most powerful anti-aging essential oils for mature skin. It is loaded with wide-ranging therapeutic compounds that provide long-lasting hydration and nourishment, remove dead cells and impurities, boost cell regrowth, improve blood circulation, and encourage collagen building.
Basil also has antiseptic and soothing properties that can alleviate skin issues like acne, blackheads, itching, redness, swelling, and sunburn. Moreover, it is extremely light and penetrates easily to deeper skin layers.
In one study, topical application of a formulation containing 3% basil oil significantly improved skin moisture and reduced water loss, roughness, scaliness, and wrinkles. In numerous studies, researchers have found that the presence of multiple flavonoids and terpenes in basil makes it a wonderfully effective aging skin rejuvenator.
5. Citrus peel oils
Citrus fruits like oranges, grapefruits, and lemons are packed with multiple skin-healthy nutrients, including vitamin C, beta-carotene, niacin, thiamine, riboflavin, potassium, magnesium, calcium, folate, and manganese that can naturally boost collagen production and slow down the aging skin.
Although citrus essential oils do not contain any of these vitamins or minerals, they still have the power to revamp and revitalize your skin in a way unmatched by any commercial "anti-aging" cream. Citrus peels are rich in various bioactive compounds like monoterpenes (including d-limonene), flavonoids, carotenes, and coumarins that are known to have antioxidative and anti-inflammatory effects.
Studies have shown that topical application of citrus essential oils can improve skin barrier function, encourage moisture retention, soothe skin irritations, and repair skin damage caused by environmental factors. In one study, applying diluted lemon oil after sun exposure significantly reduced free radical damage in facial skin and was found more effective than alpha-tocopherol.
A 2022 study found mandarin and lime oils effective in fading away fine lines, wrinkles, pigmentation spots, and skin sagging. A 2018 review also documented the anti-aging effects of sweet orange, bitter orange, mandarin, lemon, lime, grapefruit, petitgrain, bergamot, yuzu, and kumquat oils.
6. Patchouli
Patchouli is famed and cherished for its complex, alluring aroma that is said to promote self-awareness and mindfulness. It is also widely used in creams, lotions, serums, and skin products as one of the best-known essential oils for aging skin.
When used topically on a regular basis, patchouli soothes dry and parched skin, maintains optimal skin pH, and clears pimple marks, scars, and dark spots. It is also helpful in alleviating fungal and bacterial skin infections and inflammatory skin conditions. Evidence suggests that patchouli oil may reduce photoaging (aging caused by UV rays) and boost skin elasticity.
In one animal study, researchers found that topical application of patchouli oil before sun exposure led to increased collagen content and less wrinkle formation, suggesting its protective and free radical scavenging properties. In a 2021 study that examined and compared the anti-aging and antioxidant potential of four essential oils, namely clove, nutmeg, patchouli, and citronella, patchouli was found to be the safest of all—even though it was the second most effective (after clove) in reducing UV-induced aging skin wrinkles.
How to use essential oils for mature and aging skin
Mix 10-12 drops of essential oil with 30 ml of any cold-pressed carrier oil. Take 2-3 drops on your fingertips and massage your face and neck. For facial skin application, choose a lightweight, non-comedogenic oil that has quick absorbency. Argan, rosehip, almond, jojoba, and grapeseed oils are some great options for mature and aging skin.
You can always mix two or more carrier and essential oils to create your own unique blend! You can also make an all-in-one body butter using any plant-based butter (shea, cocoa, mango, or kokum), extra-virgin oils, and essential oils.
Safety and possible risks
Essential oils should never be used at full strength. When used improperly or in high amounts, they can be potential irritants for the aging skin. Always remember to keep the strength below 3-5%, with 1-1.5% being ideal for daily use.
Citrus peel oils extracted using the traditional cold pressing technique are known to increase the skin's photosensitivity. Avoid direct sun exposure for at least 12 hours after topical application.
Final thoughts
Essential oils are powerful plant extracts that can benefit aging skin in many ways. When topically applied in proper dilution, they can help fight oxidative stress, clear toxin buildup, promote cell regeneration, boost skin elasticity, and protect against sun damage. Regular use of anti-aging essential oils can also help reduce the appearance of wrinkles, fine lines, dark spots, large pores, and puffiness.
Crafting your own skin products using essential oils empowers you to choose the best ingredients for your particular skin type. It is also important to remember that what you see on your skin is only a reflection of what is going on inside your body. Make sure to drink loads of water, eat a nutritious diet, invest in relaxation techniques, and keep a tab on your blood sugar levels. You can also add Seabuckthorn Seed Oils as a supplement. I find it to be very effective. I use this oil from my friends at Activation Products.
Remember, "Do Something Everyday That Heal Your Body!"
To Your Health!
References
https://www.ncbi.nlm.nih.gov/pmc/articles/PMC8452390/
https://pubmed.ncbi.nlm.nih.gov/22615680/
https://pubmed.ncbi.nlm.nih.gov/18401780/
https://www.researchgate.net/publication/233850718_Antioxidative_Action_of_Citrus_limonum_Essential_Oil_on_Skin
https://www.sciencedirect.com/science/article/abs/pii/S1773224722000971#!
https://pubmed.ncbi.nlm.nih.gov/29055721/
https://www.ncbi.nlm.nih.gov/pmc/articles/PMC6073409/
https://www.mdpi.com/2079-9284/8/4/94
https://www.sciencedirect.com/science/article/abs/pii/S0378874114002955